SQUIRRELL, Leonard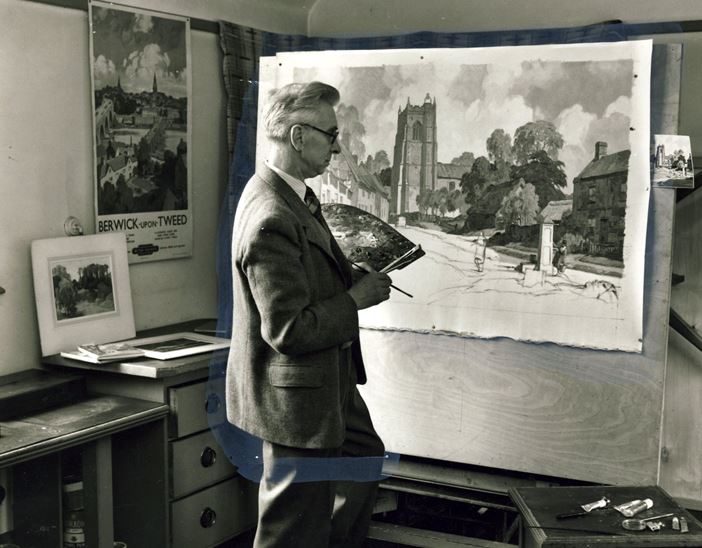 Leonard Russell Squirrell, was born at Ipswich on 30 October 1893, son of Frank Squirrell (1867-1947), a carpenter, and his wife Henrietta née Clemmence, who died at Ipswich in 1902, aged 39. As a boy he lived at 82 Spring Road, Ipswich with his brother and widowed father, together with a housekeeper until 1905, when his father married again, Alice Lucy Watson (1874-1946). In 1911, a 17 year old art student, still at 82 Spring Road with his 44 year old father, 36 year old step-mother, 19 year old elder brother Sydney Frank (1891-1968) and his step-brother, 2 year old Leslie Watson (1909-1987). Educated at the British School in Ipswich and in 1908 joined the Ipswich School of Art as a full-time student under George Rushton [q.v.] and remained there until 1916. In 1913, one of his water-colours was exhibited at the Royal Academy and in 1915 he won the British Institution scholarship in engraving and his work was hung at the Royal Academy for forty-seven consecutive years from 1913. In 1918 he returned to Ipswich Art School and in 1920, on the recommendation of Rushton, entered the Slade School of Fine Art in London under Professor Henry Tonks (1862-1937) and Sir Philip Wilson Steer [q.v.]. On leaving Slade he travelled to Italy and France producing etchings related to the landscape and received gold medals at the International Print Makers Exhibitions in Los Angeles in 1925 and 1930, and silver in 1923. Briefly a member and exhibitor at Norfolk & Norwich Art Club in 1932 but was a member of the Ipswich Art Club from 1914 until his death, exhibiting from 69 Foxhall Road, Ipswich in 1927, twelve watercolours and was a prolific exhibitor and at the centenary in 1974 he had on show 'Framlingham Castle from the Air', 'Barden Tower, on the Wharfe', 'Autumn Sunshine, Bramford', 'From the Church Tower, Framlingham' and 'the late James Martin' and in 1977 exhibited from Merrydown, Witnesham, near Ipswich 'A Little Market at Whitby' and 'Bodiam Castle, Sussex' but was a regular annual exhibitor also exhibiting at Tibbenham's Gallery, Brook Street, Ipswich in 1943, 'The Forge', 'Ramborough Sands', 'Blakenham Bridge-Summer Afternoon', 'Barn at Kirkham Farm, Cotswolds', 'Morning at Tuddenham' and a dryprint 'Bamborough Castle', an aquatint 'Morning at Durham', an etching 'Top of Street-Kersey' and a mezzotint 'Haddiscoe Church, Norfolk' which he exhibited at the Royal Academy. Squirrell published 'Landscape Painting in Pastel' (1938), and 'Practice in Watercolour' (1950). As well as being a prolific watercolourist, he produced a number of railway carriage prints and glowing railway posters as well as images for local commercial companies such as Ransomes, Sims & Jeffries and Fisons Fertilizers. In 1929 he succeeded Charles Edward Baskett [q.v.] in teaching etching at the Ipswich School of Art where he remained until 1940, living firstly in Foxhall Road before moving to 46 Crabbe Street, Ipswich. On the council of the Royal Society of Painters in Water-Colours and the Royal Society of Painter-Etchers and Engravers and also exhibited at the Abbey Gallery; Connell & Sons Gallery; Fine Art Society; Glasgow Institute of the Fine Arts; Walker Art Gallery, Liverpool; Manchester City Art Gallery; New English Art Club; Royal Society of Painter-Etchers and Engravers; Royal Hibernian Academy; Royal Institute of Painters in Water Colour and the Royal Scottish Academy. He married in 1923, Hilda Victoria Bird [Squirrell q.v.], having a son Martin [q.v.] and a daughter Annette [q.v.]. He lived at 'Greenwood', Crabbe Street, Ipswich and retired to Merrydown, Witnesham, Suffolk where his wife Hilda died in 1972, aged 72 and where he died on 10 July 1979. His only son Martin was also a gifted artist and died in 1950 at the early age of 24. Leonard is represented in many collections locally and internationally. In 2010, a blue plaque was installed at 82 Spring Road, Ipswich where the artist had spent his childhood.
---
Works by This Artist
Sparrowes Nest, Ipswich

Watercolour
Signed and dated 1941
25.5cm x 40.5cm
Exhibited at Ipswich Art Club 1942 (227)

LEONARD SQUIRRELL

Leonard is second from the right and Austin Randell [q.v.] is the third from the left-partly obscured, with fellow Suffolk Artists circa 1925.