WORRALL, Ernest John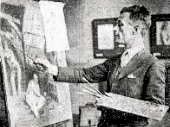 Ernest John Worrall, was born at Marylebone, London on 13 September 1898, second child and eldest son of the five children of John Edward Worrall (1868-1932), a boot & shoe maker, and his wife Emily Elizabeth née Sturt (20 October 1870-1940), who married at St Pancras, London in 1896. In 1901, the family were living at 107 Whitfield Road, St Pancras and ten years later had moved to 16 Percy Road, Horsham, Sussex, where 12 year old John was living with his parents, 42 year old John and 40 year old Emily, with four siblings, Marguerite Annie 13, Emily Brisland 8, Frederick Arthur 6 and Alex Edward 3. Ernest was educated at St John's Roman Catholic School, Horsham and, at the age of 16, enlisted in the Royal Navy during the First World War and may also have joined the Royal Sussex Regiment. After the war he took lodgings in Ipswich and studied at Ipswich School of Art under George Rushton [q.v.]. A landscape painter and a member of Ipswich Art Club 1923-1930 exhibiting from 73 Rose Hill Road, Ipswich in 1923, an oil 'The Malt House Inn, Ipswich', in 1924 from 24 Church Street, Ipswich, two oils 'Harvest Time near Rushmere Heath' and 'Showery Weather' and three watercolours 'Suffolk Barn', 'Granneries and Warehouses' and 'Day in the Park', in 1925 from 73 Rosehill Road, Ipswich, a pencil 'Portrait' and a wood engraving 'The Middle of the Night' and in 1927 eight works, 'Windmill, West Chiltington, Sussex', 'A Study of a Head' and watercolours 'The Windmill, Parham', 'Levington Creek', 'The Mill, Bramford', 'Stopham Bridge, near Pulborough', 'Haystacks' and 'Landscape', his last exhibits were from 2 Avondale Road, Ipswich in 1929 when he he had on show two works 'Houses on The Mount [Ipswich] destroyed in 1928' and 'Old Barn, Nacton Road, Ipswich'. Shortly afterwards he decided to take up art on a full-time basis and moved to London and in 1930 he exhibited at the Royal College of Art and the following year he graduated from the College. He married at Steyning, Sussex in 1932, Sarah Anne Wood (10 November 1906-27 January 1999) and they moved to Grimsby where Ernest was a teacher at Wintringham Grammar School. He again exhibited at the Ipswich Art Club in 1932 from 16 Percy Road, Horsham, Sussex, a watercolour 'West Blatchington, near Brighton' in the same year also exhibited at the Royal College of Art from Grimsby. He also exhibited at the New English Art Club and the Royal Academy and had several solo exhibitions at Grimsby and Cleethorpes. In 1939, a graduate teacher in art, living at Eskdale Oak Road, Grimsby with his wife and during the Second World War, Grimsby Borough Council commissioned Ernest to record the impact of the war on Grimsby, when he produced a series of over twenty paintings. He exhibited at a Rushton exhibition at Tibbenham's Gallery, Brook Street, Ipswich in 1943 'Healing, Grimsby'. After the war he continued teaching at Wintringham Grammar School until he retired to Sussex in the 1960s. He died at Crescent House, The Crescent, Steyning, Sussex on 14 October 1972.

The National Archives Archive reference ADM 188/1033/7982 Record set British Royal Navy Seamen 1899-1924 giving the correct date and place of birth. There is also a record of him joining the Royal Sussex Regiment in 1914 giving his age as 17 and was also of Horsham.
---
Works by This Artist
Riby, Lincolnshire

Watercolour
Initialled and dated (19)45
37cm x 54cm

Repairing Trawlers

Watercolour
1944
39.3cm x 56.7cm