SCHOFIELD, Walter Elmer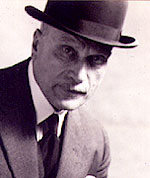 Walter Elmer Schofield, was born at Philadelphia, Pennsylvania on 9 September 1867, son of Benjamin Schofield and his wife, British born Mary née Wollstonecraft. After attending Central High School, he enrolled at Swarthmore College, Pennsylvania with frequent trips to the American southwest, particularly to San Antonio, Texas, where he produced drawings of the American western life. On leaving college he continued his work as an artist also attending Pennsylvania Academy of Fine Arts in Philadephia 1889-1892. Schofield studied at the Académie Julian in Paris and married at Ormskirk, Lancashire in 1896, Murielle Charlotta, daughter of Ephraim Brownlow Redmayne and Charlotta Taubman. During the First World War, Walter served as a Captain in the Royal Garrison Artillery and about 1925 purchased the historic High House, Otley, Suffolk which, with his son Sydney Elmer Schofield [q.v.], renovated house but in 1938 moved to Godolphin House, Cornwall and joined in the artist colony of St Ives. His best known American landscapes are those of the region of the Delaware River and Canal circa 1925 to 1940, spending periods of most years in the United States with his English landscapes being produced about 1901 to 1944. An Associate of the Royal Society of British Artists 1907 and the Royal Institute of Oil Painters 1910. He exhibited at Walker Art Gallery, Liverpool; Royal Academy; Royal Society of British Artists; Royal Institute of Painters in Water Colour and the Royal Scottish Academy, from St Ives, Cornwall 1906, Ingleton, Yorkshire 1908, London 1923 and Ipswich, Suffolk 1936. In 1939, together with his wife and son, were living at Godolphin Manse, Kerrier, Cornwall and he died at Godolphin House, Breage, Helston, Cornwall on 10 March 1944 but interred in Saint James the Less Church, Philadelphia.
---
Works by This Artist
The Red Barn

Oil on canvas
1930
29cm x 32cm

A Woodland Stream

Oil on canvas
Signed 'Schofield'
66cm x 76.2cm
Provenance: Mrs. Enid Schofield, Ipswich, England (Daughter-in-law of the artist).