WARD, Leslie Moffatt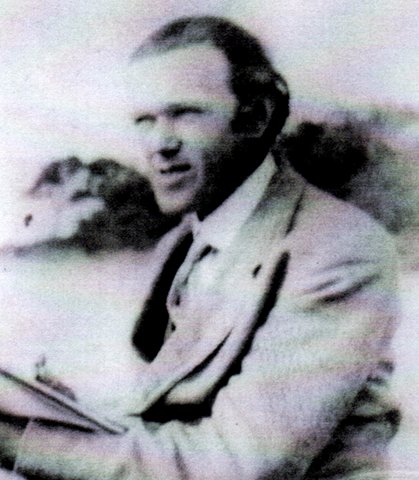 As Philip Leslie Moffatt Ward, he was born at Worcester on 2 April 1888, son of Charles James Ward, general drapery canvasser & salesman, and his wife Charlotte née Gillmore.
The family moved to Bournemouth in 1895 and opened a drapery business and in 1911, Philip Leslie was a 23 year old, science & art teacher, living at 22 Grants Avenue, Bournemouth with his parents, 55 year old Charles and 62 year old Charlotte, where Leslie lived for most of his life. He began his art training by winning a scholarship to the Drummond Road Art School in Bournemouth studying under the then headmaster, Arthur Lister Lobley (1857-1927) and went on to teach at the school. He was also a student at the Royal Academy School and won a gold medal in a national competition 1909-1910, he later became senior assistant at the Southern College of Art in Bournemouth. Elected an Associate of the Royal Society of Painter Etchers in 1916 and a Member in 1936 having his first solo exhibition at Bournemouth in 1930. A leading member of the Bournemouth Art Club of which he was the vice-chairman for many years and working alongside so many talented artists in a number of different fields, Ward himself worked in a wide variety of styles and mediums, and in all of his work he demonstrated an underlying objectivity, creating an ideal balance between light and colour in his compositions. He made numerous drawings, etchings and paintings of the local Bournemouth area and the old town of Poole, with its quay featured in his work. He exhibited at the Royal Academy from 1915; the Royal Society of Painters, Etchers and Engravers; the Society of Graphic Art; the Walker Art Gallery at Liverpool; the Royal Institute of Painters in Watercolours and in 1932 at the Ipswich Art Club when he exhibited from Grants Avenue a watercolour 'Tower of the Groot Kirche, Dordrecht, Holland'. His work is held in the Russell Cotes Art Gallery in Bournemouth and public galleries in Hastings, Eastbourne, Southampton, Oldham, Cheltenham, The Victoria and Albert and the British Museum. Shortly before his death the Russell Cotes Art Gallery in Bournemouth held a three week exhibition of his work and he died on 16 November 1978, aged 90.

---
Works by This Artist
Near Worbarrow Bay, Dorset

Oil on canvas
1930
69.5cm x 101cm

An English Idyll Book Cover
Biography


Steeple Church, Dorset

Watercolour
Signed