ZINKEISEN, Doris Clare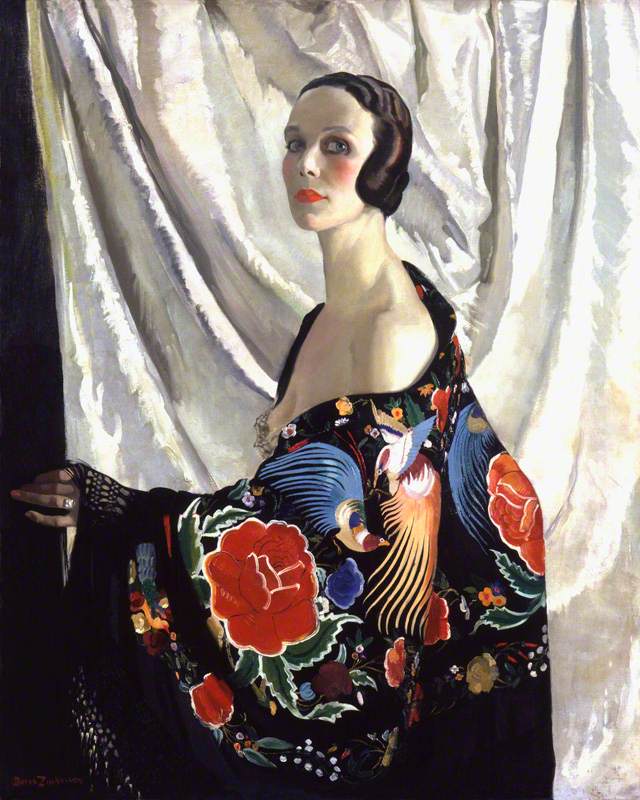 Born at Rosneath, Argyll, Scotland on 31 July 1898, daughter of Victor Zinkeisen (5 July 1863-30 October 1929), a timber merchant and amateur artist, and his wife Clara née Bolton-Charles (7 September 1869-1952), Doris's younger sister was Anna Zinkeisen. In 1909. the family moved to Pinner, near Harrow and after being educated by private tutors, she studied at Harrow School of Art and in 1917 won a scholarship to the Royal Academy Schools, where she studied with her sister. Her first painting, a portrait of her sister Anna, was shown at the Royal Academy in 1918 which was painted by Doris when she was only aged 16, and she continued to exhibit until 1938. Doris and her sister shared a studio in London in the 1920s and 30s and together they did the murals for the liner Queen Mary and she also worked widely in other media as an illustrator and commercial artist including producing advertising posters for several British railway companies, the London Underground and murals for the RMS Queen Elizabeth, winning bronze, silver and gold medals at the Paris Salon. Her realist style made her popular as a portraitist and she became a well-known society painter, the subject matter of her paintings, society portraiture, equestrian portraiture and scenes from the parks of London and Paris reflect the lifestyle of the upper class at that time. Early on she was taken up by the impressario Nigel Playfair (1874-1934), which led to a lifelong association with the theatre and she worked with Charles Blake Cochran (1872-1951) and painted the portraits of many notable actresses including Anna Neagle and Evelyn Laye. She worked at the 'Old Vic' with Laurence Olivier and created his make-up for the film 'Richard III' and wrote her bible 'Designing for the Stage'. A theatrical stage and costume designer, painter, commercial artist and writer and was also a fine horsewoman, winning the Moscow Cup for the Supreme Hack Championship at the International Horse Show in 1934, and her pictures often feature horses and carriages in period settings, and are noted for their clean draughtsmanship and unique palette. At the end of the Second World War, she was the first artist to enter the infamous Belsen Concentration Camp and two of her painting are in the Imperial War Museum. Zinkeisen continued to work in London as a theatrical designer and held occasional exhibitions of her paintings, also designing the cover of a special edition of 'Everybody's Magazine' to celebrate the coronation of Queen Elizabeth II in 1953 and the following year designed, amongst others, the scenery and costumes for NoŽl Coward's musical, 'After the Ball'. She married at Marylebone, London in 1927, Edward Grahame Johnstone, a naval officer, and had twin daughters born in 1928, Anne Grahame Johnstone and Janet Grahame Johnstone, who were also artists, and a son, Murray Johnstone. Grahame Johnstone died in 1946 and Zinkeisen's twin girls then lived with their mother moving with her to Badingham, Suffolk in 1966 where she died on 3 January 1991, aged 92. She signed her work 'Doris Zinkeisen' printed letters.

Royal Academy Exhibits
from 8 St Andrew's Place, Regent's Park, London, NW 1
318 Lieut. E. Grahame Johnstone, D.S.C., R.N.V.R.
---
Works by This Artist
No.115 British General Hospital, Ostend: Unloading Wounded

Oil on canvas
1945
63.5cm x 76.2cm

Carriage and Pair

Oil on canvas
72cm x 91cm