BISCHOFF, Charles Ferdinand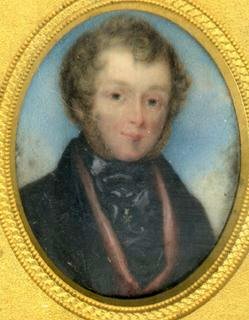 Charles Ferdinand Bischoff, was born in London on 17 December 1820 and baptised at Holloway on 28 February 1821, son of Ferdinand Henry Bischoff and his wife Mary née Hutin, who married at Westminster on 4 January 1820. Charles was admitted to the Royal Academy School, London on 12 December 1840 but in 1834 a Bischoff, had become a member of the Ipswich Society of Professional & Amateur Artists, no first initials are given and this could have been his father. He exhibited in 1848, from 2 Harriet Street, Lowndes Square, London, at the Royal Society of British Artists 'The Secret. Winning the Challenge Cup of the R.T.Y.C.' and at the Exhibition of the Suffolk Fine Arts Association at The New Lecture Hall at the Mechanics' Institute, Ipswich in August 1850 he exhibited some oil portraits 'Spencely Ellis, Esq.', 'Mr G. Tunmer', 'Mr Goddard' and 'Mrs Goddard'. In Kelly's Directory of Suffolk 1853, a portrait painter of 2 Great Colman Street, Ipswich with a separate entry for his father Ferdinand Bischoff. In 1851, as Chas. F. Bishop[sic], together with his father, were lodging at Great Colman Street, Ipswich, the home of sisters Elizabeth and Kate Boby and two other lodgers. He and his father advertised in the 'Ipswich Journal' of 25 October 1851 'Mr. Bischoff and Son. Beg to inform the Gentry of Ipswich and its Vicinity that they receive Visitors at their Residence, No. 2, Great Colman Street, and having had considerable experience, can ensure unqualified satisfaction to those who may favour them with commissions. Specimens may be seen and terms ascertained on application. Likenesses taken in Crayons and in every style of the Art. Instructions in drawing and painting by Mr. Bischoff, jun.'. Charles married at Ipswich in 1854, Eleanor Cann, after which they emigrated to New Zealand and the 'Ipswich Journal' of 14 April 1855 advertises an auction of household furniture, pictures etc. property of Mr. Bischoff, 'who is about to leave England'. In 1855 they arrived in Auckland on the 'Merchantman' and he set up as a portrait painter and art teacher in Wakefield Street for a short time, before taking up farming in Waiuku. He mainly painted portraits and was a trained miniature painter and probably the C. Frederick Bischoff, who exhibited 'The Secret' at the Society of British Artists in 1848 from 2 Harriet Street, Lowndes Square, London. He served in the Waikato war with the Waiuku volunteers and died in Waiuku on 15 July 1898, with probate being granted of Charles Ferdinand Bischoff, farmer, in the same year. He had five children. He is represented in Auckland City Art Gallery and in 1955 an exhibition of his work was held at Auckland, New Zealand (Exhibition Catalogue). A portrait of the Revd William Kirby has been assigned to Charles, but this was by his father Ferdinand Bischoff as quoted below:-

The Ipswich Journal, Saturday, September 23, 1848
We announced last week that it was intended by the supporters of this institution to place in the library a portrait of the Rev. W. Kirby, the esteemed president. We are now enabled to state that the preliminary sketch in water colours, by Mr. Bischoff, has been prepared, and the result of a private exhibition amongst Mr. Kirby's immediate friends, we understand, is, that Mr. Bischoff's production is considered to be a faithful likeness, in every respect pourtraying [sic] the characteristics of the original. Mr. Kirby is represented in an arm chair, seated in an easy and striking attitude, his left arm resting upon a table. It is intended that the sketch shall be transferred to canvass, to the extent of a full life-like portrait.
---
Works by This Artist
Portrait of Harriot Lowndes

Watercolour
Inscribed on reverse 'This watercolour was painted in 1854 by Bischoff, portrait and miniature painter, 2 Harriett Street, Lowndes Square'
34cm x 27cm