BISCHOFF, Ferdinand Henry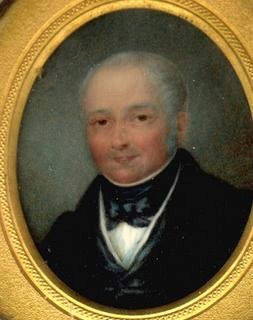 Ferdinand Henry Bischoff, was born in London on 20 May 1795, son of Frederick Bischoff and his wife Penelope Priscilla Augusta née Von Mayersbach (1777-1799), who married at Chiswick, London on 9 December 1792. He married at St James's Westminster on 4 January 1820, Mary Hutin and their son was Charles Ferdinand Bischoff. Ferdinand exhibited at the Royal Society of British Artists from 178 Sloane Street, London from 1824 and in 1833 from 1 Knightsbridge Terrace, London all portraits. In 1841, an artist, still living living at 1 Knightsbridge Terrace, St George's Hanover Square, Westminster, London. In Kelly's 'Directory of Ipswich' 1853, a portrait painter of Great Colman Street, Ipswich with a separate entry for his son Charles Bischoff. In 1834, a Bischoff became a member of the Ipswich Society of Professional & Amateur Artists, no first initials are given and this could be his son, which is more likely as it was run by Henry Davy, an art teacher. An exhibitor at the Suffolk Fine Arts Association in August 1850 of oil portraits of 'Samuel Catt, Esq.', 'Mr Henry Clarke', 'J. E. Sparrowe, Esq.', 'Mrs Henry Clarke', 'Study of a Head' and watercolours 'A Family Group', 'G. G. Sampson, Esq.', 'Mrs Robert Burrows', 'Of an Artist', 'A Portrait of a Lady and Child', 'Mrs G. G. Sampson', 'Henry Furze, Esq.', 'Mrs Henry Furze', two entitled 'Portrait of a Lady' and 'Portrait of the late Rev Wm Kirby, MA, FRS, FLS, taken from Life, in his 90th year'. He is the Friedrich Henry Bischoff who is recorded as painting a portrait of William Kirby, showing him as an old man, from Ipswich c.1849 but Colchester and Ipswich Museum Service have the dates as his son but Ferdinand had this in the 1850 Suffolk Fine Art Association exhibition as 'Portrait of the late Rev. Wm. Kirby, M.A., F.R.S., F.L.S., &c., taken from Life, in his 90th year' [by] F. H. Bischoff'. Another portrait attributed to him from Norfolk is of Bishop Edward Stanley (1779-1849). In 1851, as 'Henry Bishop', together with his son were lodging at Great Colman Street, Ipswich, the home of sisters Elizabeth and Kate Boby and two other lodgers. Ferdinand Henry Bischoff died at Ipswich in 1854, aged 59 and buried in St Margaret's Churchyard, Ipswich on 13 December 1854. Some of his other works are conflated with those of his son.
---
Works by This Artist
A young girl, in white dress with blue sash and bows at her shoulders, wearing coral beads and a lace cap; seated on a sofa

Miniature oval
Signed and dated on obverse 'Painted by F.H. Bischoff Novr. 26th 1823', gilt wood and gesso frame
82mm high

Revd William Kirby (1759-1850) of Barham, near Ipswich

Oil on canvas
Exhibited at the Suffolk Fine Art Association in August 1850
142cm x 111cm

Rev Collier of London - Friend of F H Bischoff

Oil on canvas
Inscribed on verso 'painted by F. H. Bischoff'.