HALL, Harry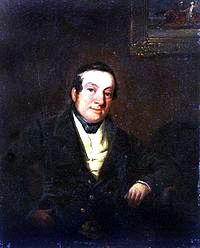 Henry, known as Harry Hall, was baptised Henry Hall at All Saints Church, Newmarket, Suffolk on 10 September 1815, son of Henry Hall and his wife Maria née Lemon, who married at Chatteris, Cambridgeshire on 3 November 1811, he was the second son to be named Henry, his elder brother Henry Lemon Hall, died shortly after birth in 1813. Harry was trained by another sporting artist of note, Abraham Cooper (1787-1868). Harry exhibited at the Royal Academy also showing at the British Institution and the Society of British Artists between 1838 and 1875, from Newmarket or St John's Wood, London, mostly racehorses, hunters or the occasional sporting scene and after the death of the elder John Frederick Herring (1795-1865), was considered the foremost racehorse portraitist of his time. He married at Newmarket in 1841, Ellen Anne Payne and in Kelly's Suffolk Directories 1846-1853, an artist at High Street, Newmarket where he was living in 1851, 'animal portrait painter' with his 28-year-old wife and their four children, Sydney Prior 8, Arthur Henry Pitt 6, Frank Algernon 4 and Frederick 1, all born at Newmarket, and he kept two house servants. Harry was still living at 'The Glen' High Street, Newmarket in 1871 but ten years later had moved to a retirement home, part of the Rous Memorial Hospital, at Upper Station Road, (now Old Station Road), Wood Ditton, Cambridgeshire with his wife and son Sydney Prior Hall, where he died on 22 April 1882. Although his work covered all aspects of country sports, he is best remembered for his portraits of racing personalities and racehorses. He painted forty-three consecutive winners of the Derby, most being painted for engraving for 'Bailey's Magazine', until he quarrelled with the proprietor over a pay rise.

Royal Academy Exhibits
from 14 Portland Terrace, St John's Wood
1838 235 Portrait of Henry Wetherby, Esq.
1844 593 Portrait of William Pigott of Dullingham Park, Newmarket
from 16 Great Queen Street, Lincoln's Inn Fields
1845 659 A Suffolk Cob, the property of Rev. Martin J. Lloyd, Branches Park, Newmarket
from Willoughby House, Newmarket
1851 694 Hunters, the property of F. L. Popham, Esq.
1852 1099 'To him lads! Another blank!
from Newmarket
1863 248 Favourite Hunters, the property of S. H. Arkwright, Esq.

---
Works by This Artist
'Bertram', T. Osborne up

Oil on canvas
1869
89cm x 132cm

George Mure of Herringswell 1797-1868

Oil on canvas
102.8cm x 152.4cm

Waiting for Master

Oil on canvas
Signed and dated 1862
58cm x 76cm

Portrait of the Jockey

Oil on board
23.5cm x 17.8cm

William Pigott (1804-1875) mounted on his hunter

Oil on canvas
1843
Signed
89.5cm x 69cm