VINE, John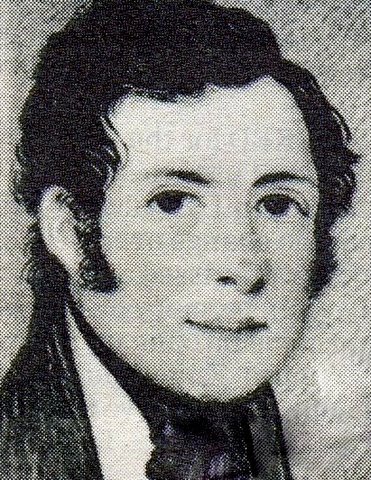 John Vine, was born at Bury St Edmund's, Suffolk in November 1808, son of John Vine (1783-1862), a boot & shoe maker of Bury St Edmund's who moved to Colchester, Essex, and his wife Elizabeth. An advertisement from the 'Bury & Norwich Post' of 11 October 1809 reads:-
'John Vine, a child about 11 months old, born with imperfect arms and hands, the two arms are differently formed, one being longer than the other, and one arm has two joints, while the other has only one. This child has one finger and thumb on the right hand, and only one finger on the left. Thus being deprived of the means of future support, the parents submit (though with considerable reluctance) to a PUBLIC EXHIBITION, solely for the future benefit of the CHILD.'
We now know that the condition was caused by a rare, inherited, genetic disorder known as Thrombocytopenia Absent Radius Syndrome. Young John apparently drew skilfully as a youngster despite his disability, and in adulthood travelled the country as a painter, picking up numerous commissions from owners of prize-winning livestock. John Vine's family moved to Colchester, Essex in 1828, living in a house with four acres of market garden off Maldon Lane (now Maldon Road), which would be his home for the rest of his days. Experienced from his time in fairgrounds, John decided that Colchester would be a suitable place to embark on his life as a professional artist, it is probable that he was self taught, learning from experiences and contacts with other artists. He commenced as a watercolourist, painting whatever people would commission, in a broad range of subjects, farms, houses, churches, children, family groups or the more familiar animal studies. Vine carried pocket-sized sketchbooks and drew his subject in pencil, shading patches to indicate colouring and, back home in Colchester, he would produce an oil painting with the help of his sketch, placing the animal in any background he thought suitable. He exhibited at the Society of British Artists from South Street, Grosvenor Square, London in 1844 'The Farm-yard'. John married at Lion Walk Independent Church, Colchester in the summer of 1847, Sarah Ann Surrey, daughter of a mariner, and in 1851, a 42 year old artist, living at the home of his 68 year old widowed father John, together with his 29 year old wife Sarah and his 27 year sibling Louisa Vine, born Bury St Edmund's. Vine died of congestion of the lungs in March 1867, aged 58 and buried in Colchester Cemetery. Although John Vine was very careful with his money and earned a fair amount for his work, his wife Sarah spent the last few years of her life in an almshouse and died at Colchester in 1899, aged 77, they had no issue.
---
Works by This Artist
The Ratcatcher

Oil on canvas
1847
60.5cm x 50cm

A Saddled Grey Horse

Oil on card
1858
45.5cm x 61cm

A Prize Bull

Oil on canvas
Signed and dated 1855
40cm x 50cm