MILNES, Kathleen Mabel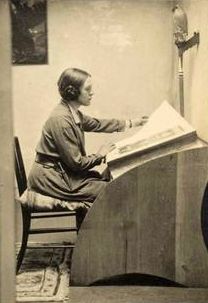 Kathleen Mabel Milnes was born at St Pancras, London on 13 March 1900, daughter of William Henry Milnes and his wife Georgina Marion née Jameson (27 November 1871-1 May 1950) who married at Christ Church Hampstead, London on 10 April 1897. In 1911, Kathleen was an 11-year-old, living at 7 Middleborough Road, Coventry with her parents, 45-year-old William and 39-year-old Georgina, with two siblings, William Henry 13 and Violet Marion 6. Probably instructed by her father and as Miss K. M. Milnes, in 1932 she exhibited at the Ipswich Art Club from The Old Forge, Polstead, Suffolk a watercolour, 'A Glimpse of Croyde Bay' [North Devon]. She was a member of the Kindred of the Kibbo Kift, a camping, hiking and handicraft group with ambitions to bring world peace. In 1939 an artist designer living at Star Inn House, Sheep Street, North Cotswold, Gloucestershire with her parents. Kathleen Mabel Milnes was of Plough Cottage, Ashton-under-Hill, Worcestershire when she died at Evesham Hospital, Worcestershire on 11 November 1943, aged 43, she was unmarried.
---
Works by This Artist
Kinlog Interior, illustrated by Kathleen Milnes

Museum of London.