RUSSELL-SMITH, Mollie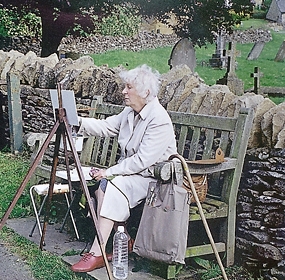 Dorothy Moulton Russell-Smith, was born at Hitchin, Hertfordshire on 21 April 1923, daughter of Edwin Russell Smith and his wife Dorothy Lily née Moulton (1896-14 June 1989), who was born at Sudbury, Suffolk and married at Edmonton, London in 1922. Young Dorothy was known as Mollie Russell-Smith and studied at Beckenham School of Art. When when their house was bomb-damaged just after the start of the Second World war, together with her mother and brother Geoffry Russell-Smith, moved to their aunt's house at Hadleigh, Suffolk, where she attended Ipswich Art School and later the East Anglian School of Painting & Drawing at Benton End, Hadleigh, Suffolk where she remained for about two years. As Miss Russell Smith, she exhibited at Ipswich Art Club in 1942, a 'Self Portrait'. She married at Bromley, Kent in 1946, singer and composer John Frost and secondly at Bromley in 1962 Eric Lunggren, a dedicated gardener, and they lived at 31 Cromwell Road, Beckenham, Kent. The author of several children's books, she died on 28 November 2014. (Benton End Remembered-2002)

Birth 2nd quarter 1923 - BMD
Death - wills index.
---
Works by This Artist
Brighton Beach

Pastel
1962
43cm x 53cm

Mother and Child

Oil on board
39cm x 39cm

Self Portrait