SOUTHALL, Joseph Edward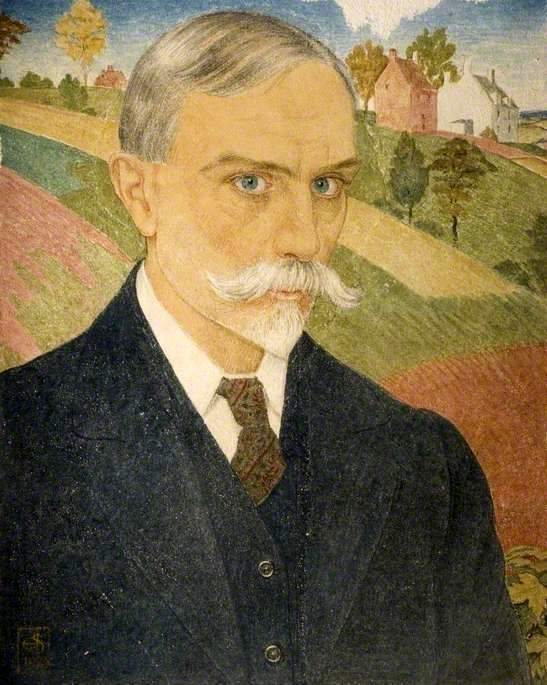 Born at Portland Road, St Mary's, Nottingham on 23 August 1861, only child of Joseph Sturge Southall (1824-1862), wholesale grocer, and his wife Eliza Maria née Baker, who married at Birmingham in 1860. His father died just over year after his son's birth when
young Southall and his mother returned to live with his mother's family at Edgbaston, but by 1871 were living on their own account at Gough Road, Edgbaston, Kings Norton, Worcestershire. Educated at the Quaker schools of Ackworth and at Bootham School in York and in 1878 articled to architects' Martin & Chamberlain, whilst also studying painting part-time at the Birmingham School of Art; the Principal of the School of Art Edward Taylor (1838-1911), was a pioneer of Arts and Crafts education and friend of William Morris (1834-1896) and Edward Burne-Jones (1833-1898) and architect John Henry Chamberlain (1831-1883) was a founder and trustee of the Guild of St George. Having left Martin & Chamberlain, Southall undertook several tours in Europe visiting Bayeux, Rouen and Amiens in Northern France 1862-1963, then spent thirteen weeks in Italy, visiting Pisa, Florence, Siena, Orvieto, Rome, Bologna, Padua, Venice and Milan learning of the 16th century art of tempera painting and, on his return to Birmingham, Southall conducted his first experiments in tempera painting at the School of Art. A leading figure in the nineteenth and early twentieth-century revival of painting in tempera, Southall was the leader of the Birmingham Group of Artist-Craftsmen and in 1901 was one of the founder members of the Society of Painters in Tempera. In June 1903 Southall married his first cousin [Bessie] Anna Elizabeth Baker (1 February 1859-1947) who had been close companions since their youth. Joseph and Bessie worked in close partnership, with Joseph painting on panel or in silk which his wife tacked and sewed to a wedged frame which she then applied up to eight coats of gesso, smoothed to an ivory finish and sealed with two washes of size. For most of the thirty-four summers following their marriage, the Southall's came to Southwold which resulted in a comprehensive portrait of this Suffolk town, which included 'Up from the Sea', a tribute to three generations of a Southwold fishing family and a double portrait of the Southall's searching Southwold beach for semi-precious stones. Southall was elected an Associate of the Royal Birmingham Society of Artists in 1898 and Member in 1902. In 1939 an artist painter & mural decorator, living at 13 Charlotte Road, Birmingham with his wife Anna and in the same year elected President of the Birmingham Society of Artists and remained in this post until his death on 6 November 1944.

---
Works by This Artist
Up from the Sea

Tempera on fabric
1920
30.5cm x 41cm

The Trippers, Southwold

Pencil and watercolour
1933

Southall and his wife Bessie

Pleasures of the Seaside

Watercolour
1925