MacBETH-RAEBURN, Henry Raeburn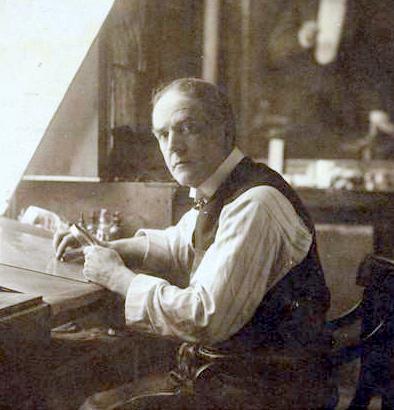 As Henry Raeburn MacBeth, he was born at Helensburgh, Dumbarton, Scotland on 24 September 1860, son of artist Norman MacBeth (1821-27 February 1888) and his wife Mary née Walker, who married at Barony, Lanark, Scotland on 21 April 1846, and was the younger brother of artist Robert Walker MacBeth (1848-1910). Henry also painted under the names of Henry Raeburn and Henry Raeburn MacBeth but added his last name to distinguish himself from his father and brother. In 1861, a newly born, living at Battery Place, Rothesay, Buteshire with his parents, 39-year-old Norman and 36-year-old Mary, and siblings Norman 10, Allan 5 and John 2. By 1871 they had moved to 28 Saxe-Coburg Place, Edinburgh where Henry was at school, studying at Edinburgh Academy and University and at the Royal Scottish Academy, also studying at Académie Julian in Paris. He married his first wife at Hamstead, London in 1884, Isabella Elizabeth McOscar (1862-1929) and in 1891 as H. R. MacBeth-Raeburn, a 30-year-old painter, artist & etcher living at 6 Melina Place, Marylebone, London with his 29-year-old wife Isabella, born London and a 4-year-old daughter Rita. In 1911, as Henry MacBeth Raeburn, a 50-year-old artist painter, living at 51 Gowers Street, London with his wife and 24-year-old daughter Rita and in 1921 at 55 Maida Vale, Paddington, London. A printmaker, reproductive engraving, mezzotint, and painter elected an Associate of the Royal Academy on 3 July 1922 and a Member on 14 February 1933 and a senior on 1 January 1936, retiring in 1940. 75-year-old Henry married secondly at Kensington Registry Office, London in 1936, his 35 year old pupil and assistant engraver for some eight years, Marjorie May Bacon and in 1939 an artist & engraver, living at 33 Southtown Road, Great Yarmouth, Norfolk with wife Marjorie. A member and exhibitor at the Ipswich Art Club 1943-1945 and in 1943 exhibited three works 'On the Simpton Pass, Switzerland', 'John Shattock after Ben Marshall' and 'The McNab after Raeburn', in 1944 two oils 'Harmony in Blue and Gold' and 'Beauty and the Beast' and in 1945 he exhibited from Walden, Dedham, Essex an oil 'Roses'. Henry Macbeth-Raeburn died at 33 Southtown Road, Southtown, Great Yarmouth on 3 December 1947.
---
Works by This Artist
Robert Spence Watson (1837–1911)

Oil on canvas
111cm x 74cm

The Rag Market

Mezzotint
Signed in pencil
25.4cm x 35.6cm


George Gordon, 5th Duke of Gordon

Mezzotint
64.5cm x 44.5cm

Azaleas in a Vase with a Fan and Figurines on a Table

Oil on Canvas
61cm x 40.6cm

Portrait of Mrs Lewis Smith

Pen and ink sketch
1907
26.4cm x 20.8cm oval

Moonlit Village Scene

Watercolour
1895
Signed
47cm x 36cm.